Latest News
In Pakistan, Petrol Price is at an all-time high
Pakistan's caretaker government has dealt a heavy blow to motorists in an unexpected move. Midnight saw a significant rise of nearly Rs. 17.50 in petrol Price and Rs. 20 in diesel prices. Petrol now stands at Rs. 290.45, diesel at Rs. 293.40 per litre. This follows a similar hike of Rs. 20 just two weeks prior.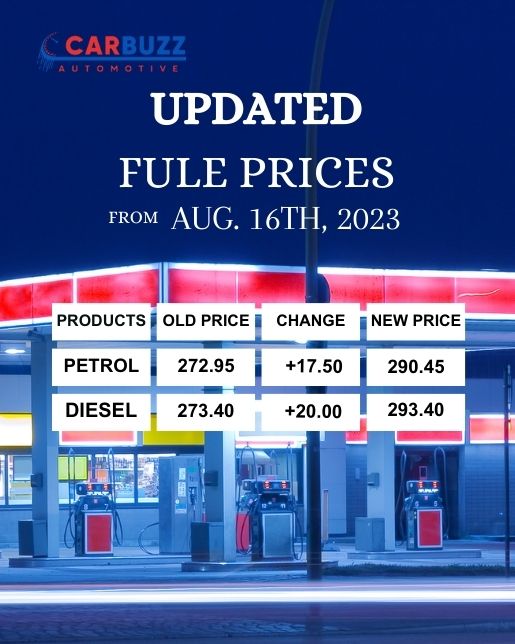 International Market Impact:
The rationale behind the decision to increase fuel costs can be traced back to the intricate web of international oil prices. This decision was driven by the interconnectedness of global oil markets and their influence on local economies. The Finance Division, responsible for conveying this announcement, emphasized that the surge in petroleum prices on the international stage was the principal catalyst for the subsequent surge in local fuel costs. As the world markets witnessed a consistent rise in petroleum prices, these reverberations were felt across the global economy, including in Pakistan. Consequently, the need for a revision in consumer petrol prices emerged as the impacts of this international trend filtered down to domestic markets.
New Government, New Petrol Prices:
This recent adjustment in fuel prices assumes a distinct significance due to its association with the arrival of a new caretaker government. Under the leadership of Anwaarul Haq Kakar, who took the position of caretaker prime minister just a day ago, this adjustment is the first of its kind. This transition in governance brings with it a new approach and perspective towards economic matters, including the pricing of essential commodities like fuel. The Finance Division's official notification has clarified that these updated rates are set to be implemented from August 16, effectively inaugurating a phase of increased fuel costs for consumers in Pakistan. This shift marks not only a change in pricing dynamics but also reflects the policy outlook and priorities of the new administration in addressing economic challenges.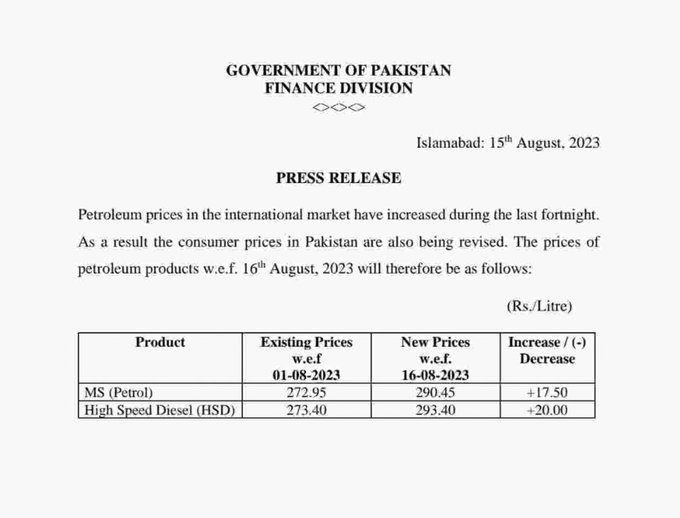 The IMF Deal & Petrol Price:
Pakistan's recent decision to implement a petroleum levy could reach up to Rs. 50 per litre is intricately linked to an agreement established with the International Monetary Fund (IMF). This accord forms a part of a more extensive bailout package designed to address Pakistan's economic challenges. As a crucial lifeline for the nation's economic stability, the IMF approved a substantial nine-month standby arrangement just last month, amounting to a noteworthy $3 billion. This financial injection has been strategically devised to fortify Pakistan's economic well-being, guiding it through the intricate stabilization process during demanding times. This endorsement came from the IMF's executive board, a pivotal decision that extended a significant financial cushion to Pakistan in the form of $2.25 billion in Special Drawing Rights (SDRs). These SDRs function as vital reserve assets, effectively nurturing and augmenting the financial capabilities of member countries within the IMF. This substantial capital influx represents a staggering total of around $3 billion, a formidable sum that remarkably constitutes 111% of Pakistan's allocated quota within the IMF. The fact that the IMF has so affirmatively embraced this bailout package emphasizes the magnitude of Pakistan's economic landscape and the imperative role of international intervention in navigating and resolving its intricate challenges.