Future Cars
By 2025, Honda will launch 10 New Honda bikes in Pakistan
Honda's Electrifying Future
In a thrilling announcement during the recent briefing session for the Ten New Honda Electric Bikes launch in 2025, Honda bikes in Pakistan, the renowned motorcycle manufacturer, has unveiled ambitious plans to electrify the motorcycle industry. Honda is set to revolutionize the motorcycle industry with an innovative and sustainable lineup of more than ten new electric motorcycles scheduled for release by 2025.
 This electrifying move encompasses a diverse range of electric scooters, street bikes, commuter bikes, crossover bikes, and cruiser bikes, meticulously categorized into electric bicycles (EBs), electric mopeds (EMs), and electric vehicles (EVs).
Honda's Electrification Strategy:
A Global Unveiling of Honda bikes in Pakistan:
Honda's strategic plan includes a global unveiling of these electric bikes across Asia, China, Europe, and Japan. This ensures that riders worldwide can experience the future of electric mobility from a trusted brand.
A Range for Every Rider:
These new electric bikes are not a one-size-fits-all solution. Honda has thoughtfully designed these motorcycles to cater to different preferences and needs.
For those seeking a leisurely ride or urban commuting, Honda's EBs are the perfect choice. Designed for 25 km/h or less speeds, they offer an eco-friendly and efficient way to navigate city streets.
EMs offer an exhilarating ride, well-suited for a broader spectrum of riders, thanks to their 50 km/h speeds or less. These electric mopeds harmonize performance and practicality, offering riders the best of both worlds.
Honda's EVs are built for top speeds exceeding 50 km/h for thrill-seekers and long-distance travelers. They promise an exhilarating riding experience while maintaining Honda's commitment to sustainability.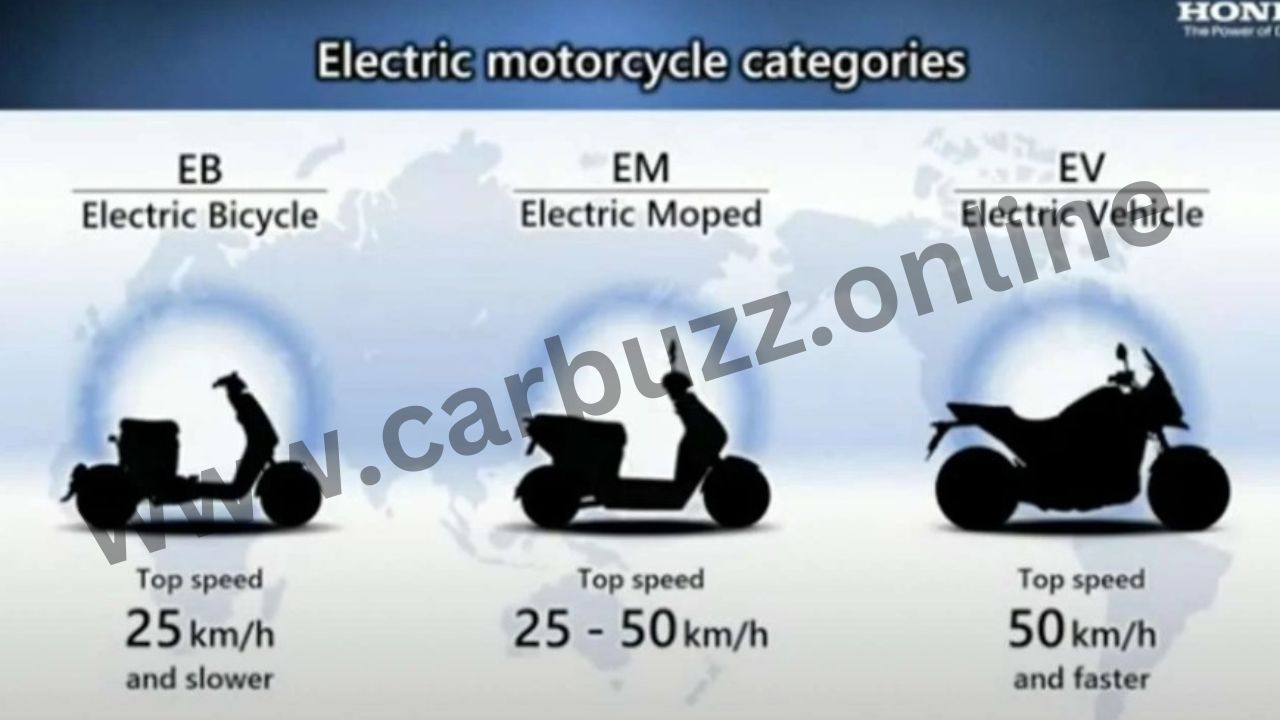 Honda's Global Showcase:
Honda revealed that the EVs would be showcased in Europe, Asia, and the United States during their presentation. EMs, on the other hand, will debut in automotive markets worldwide, except for Asia, Japan, and Europe. Honda's electrifying lineup will consist of seven mopeds, three larger bikes, and one small trail bike designed for children.
The Enigma of Honda's Upcoming Models:
While Honda bikes in Pakistan has teased the world with their electrifying plans, they have remained tight-lipped about the specifics of these forthcoming products, including pricing details. This air of mystery only adds to the anticipation surrounding the release of these new electric motorcycles.
Honda's Green Commitment:
A Carbon-Neutral Future:
During a motorcycle business briefing, Honda unveiled a series of initiatives to propel the company toward carbon neutrality by 2050. Honda is committed to an accelerated shift toward electrifying motorcycles as the cornerstone of its environmental strategy in the motorcycle business.
Eco-Friendly Fuels:
In addition to electric motorcycles, Honda bikes in Pakistan aims to develop models compatible with eco-friendly fuels like gasoline-ethanol. These fuels are already on the market in Brazil (E100) and are scheduled to be available in India in E20 form by 2023, with E100 slated for 2025.
Innovative Electric Models:
By 2025, Honda bikes in Pakistan plans to launch an impressive lineup of 10 new electric models, including practical commuter options and what they term "fun models." These "fun models" depart from the typical 125-equivalent electric bikes commonly found in the market, emphasizing higher-capacity offerings.
Battery Technology Advancements:
Honda bikes in Pakistan is simultaneously working on creating its proprietary all-solid-state battery technology in the realm of battery-powered bikes. This innovation aligns with battery standardization agreements forged with fellow Japanese companies such as Suzuki, Yamaha, and Kawasaki and European manufacturers.
Battery-Sharing Initiatives:
Furthermore, Honda bikes in Pakistan is committed to battery-sharing initiatives, currently operational in Bali and soon to launch in India for electric rickshaws. The company is also actively involved in Gachaco, a collaborative venture with other Japanese manufacturers, aiming to provide a standardized swappable battery-sharing service for electric motorcycles and establish the necessary infrastructure.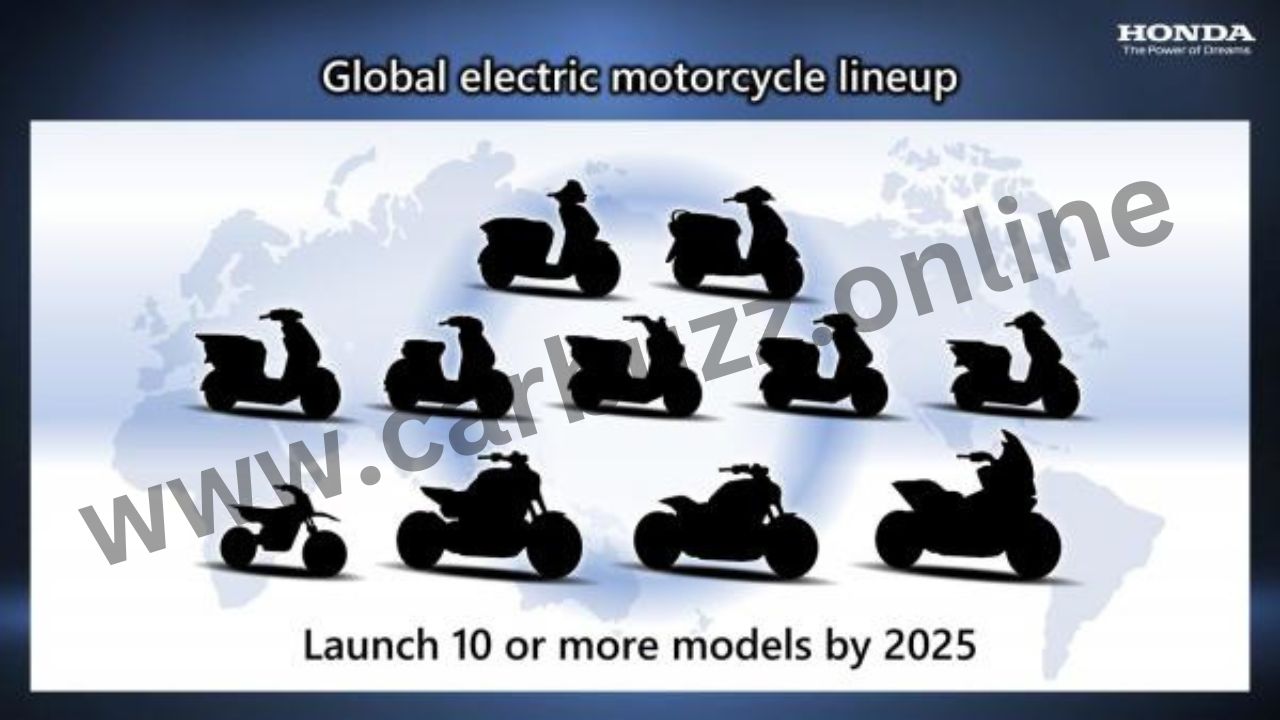 A Vision of the Future:
In line with its electrification targets, Honda bikes in Pakistan aspires to achieve one million electric motorcycle sales by 2027 and an impressive 3.5 million by 2030. Additionally, Honda is collaborating with its software subsidiary, Drive mode, to enhance the riding experience through connectivity features, offering optimized route options considering remaining range, charging spot notifications, safe riding guidance, and after-sales support.
Conclusion:
Honda's electrifying journey into the future of motorcycles promises a sustainable and eco-friendly mode of transportation and an exciting and diverse range of electric bikes that cater to riders of all kinds. As the world gears up for a more sustainable future, Honda bikes in Pakistan leads the charge with innovation, commitment, and a vision to create an interconnected mobility ecosystem.